www.webx.dk Start page


MY little Radio Control page, planes and tech stuff and whatever.

| | |
| --- | --- |
| Click on the planes to go to each section fast and easy. | |


UHF RC system Version 3, multiple channel hopping FHSS ultra long range radio control system
Foreword
I have been interested in RC planes for many many years, since my father owns a lot of nice RC planes.
so I had seen how much fun he had making them and flying them. But I was more into RC-cars with electric motors.
But in may 2003 I got infected with the RC-Plane disease ! it's like a virus spreading really fast !
also thanks to Claus for infecting me, hehe.. Please visit my local club EFK87.DK
Homemade RC stuff, and RC electronics
Electric flight specific:
X-Twin Night Light LED it's fun with night flying


X-Twin plane transmitter codes hacked with PPM to 18bits conveter
Powerfull LED light added to wing
Propellar Saver Invented by Claus Urbach !
Light Weight Depron Wing how I made it easy
ECS2B 40A DC motor speed regulator BEC, KIT for sale or assembled


Speed 540 motor mesurements See exactly what kind of current peaks such a motor draws !
Hot to cold motor speed regulator modification how to solve BEC problems with hi voltage.
Speed 400 motor mesurements See exactly what a gearbox does to your plane
Low Voltage Alarm Indicator Good for LiPoly
Depron plane for kids, easy, fast, cheap and good flying even kids can make it
Homemade Quartro-Copter, four bladed helicopter
Wheels for RC planes See the size and weight, good info if you like to save weight


Glowplug motor flight specific:
Electric starter A cheap way to start your glow engine
Old Glow Engines funny old stuff I have on stuck, most of them I have tested works fine.
On board glowplug driver to make idle more smooth or easy start at the field
Glowplug driver Voltage compensated PWM LM555 and FET
Powerpanel With glowplug driver, RX charge, TX charge, pump switch, starter plug
Fieldbox My fieldbox
Methanol engine 10cc mounted on a small light scooter A real Psycho projekt

Transmitter/Reciever stuff in general:
GPS RC meter GPS data on a tiny LCD screen for RC use


Video OSD On Screen Display GPS data on the screen NOW with VIDEO clips !


Video Wireless 2.4GHz 500mW realtime video downlink LONG RANGE
Video Wireless 2.4GHz RX2460 RSSI OUT modification


Video Wireless 2.4GHz tiny realtime video downlink TINY SIZE
Video Wireless 2.4GHz tiny new model realtime video downlink TINY SIZE
Video Wireless 1300MHz 300mW realtime video downlink
Video Wireless 2400MHz 1W realtime video downlink 1W from Rangevideo


Video Wireless 1240MHz 1W realtime video downlink 1W


Video Wireless 2.4GHz 10-100-500mW realtime video downlink, from IF
2.4GHz antennas and their measurements
Filter designs and measurements for GPS signal to prevent blocing
Video Transmitter 910MHz 20 Watt specially designed for a customer
Transmitter battery modification soldering on NiMH cells will prevent loose connections
FMS Simulator PIC serial interface
UHF data link Realtime serial data downlink.(old dropped project)
UHF GPS telemetry data link Realtime serial GPS data downlink.(old dropped project)
UHF RC system Version 2 two way multiple channel hopping modes.
UHF RC system Version 3 one way multiple channel hopping modes, ultra long range


UHF RC PA stage 40W TX power for ultra long range
Royal EVO transmitter and Spectrum module PPM in/out mod, and spectrum in mounted in metal case
Trainer for EVO transmitter Old transmitter modified easy for trainer.
Wireless 40MHz Trainer for Multiplex EVO transmitter old 40MHz TX for 35MHz teacher system. LAME BAD solution
Wireless UHF Trainer for Multiplex EVO transmitter Digital 433-434MHz link system for 35MHz teacher.
Wireless UHF Trainer for Multiplex PICO transmitter PPM 433-434MHz link system for 35MHz teacher.
Video transmitter amplifier Wireless 1GHz video, adds fun to the RC hobby.
Multiplex Cockpit trainer and student how to modify this cheap transmitter for trainer mode.
Servotester Using a PIC12F675 one component, voltage stable, and accurate
Four Way RC servo bit switch Atmel Tiny45 FREE download DIY
Servo Signal, Voltage and Current Analyzer Using an Atmel ATMEGA88
RX-measurements See how well/bad many RC receivers perform


Speaking Minute Timer Make your transmitter talk

Charger/Battery stuff in general:
Battery Discharge Automatic Switch Cheap and simple discharger for large cells after flying
Computer battery charger with Z80 and large 2x40 LCD
KAN 1050 NiMh battery pack to save money or to make special designs.
KAN 1050 NiMh battery capacity measurements see some curves.. a 1050 is not 1050mAh at all..
Intellect 1200 NiMh battery capacity measurements see some curves
Elite 1500 NiMh battery capacity measurements compare with other same size


Enrichpower 1500 NiMh battery capacity measurements compare with other same size


AAA NiMh battery pack to save money or to make special designs.
ISL6-330 Modifications Serial port, sound ON/OFF, Dual boot, Name in display
ISL6-330 Modification 10A make it discharge 10A or even more !
Battery Data Logger, discharger, ATMEGA88 and PC SW

miscellaneous:
Robot Crawler 6 legged Servo Robot
Planeholder See how an easy cheap plane and wing holder can be made
My trip to Crete, Chania AirModelling Club 2010
My trip to Greve RC Center 2008
My trip to Comet Gathering Copenhagen 2008
My trip to Aspach E-meeting 2007 Germany
My trip to Comet Gathering Copenhagen 2007
My trip to Comet Gathering Copenhagen 2005
My trip to Crete, Chania AirModelling Club 2004
My trip to Hamburg modelbauwelt 2004
My trip to Greve RC Center opening party 2005 Sorry picrures taken by my kids after all the fun was over
My trip to Hamburg modelbauwelt 2003
DANSK RC POLL Sjov afstemning om modelflyvning hobby, kik ind og stem
Flight Check List alot of good ideas to follow here, will save you a few crashes
My Plane Crash page..ohh no.. dont look here..
---
My own RC planes
My 1st. Plane (Deceased and buried)



Nice yellow Chico Graupner model, with OS 15 glow plug engine, was a gift from my dad !
This model was HOT in 1977 but this one still works in 2004 !!
Wing span = 99cm, weight = 1230 grames RTF but no fuel in tank.
The original OS 0.15 Engine did work in 2003, but after a crash, I have changed the motor to a Magnum 0.25
This new motor is 75 gram more weight, but then I changed the Gas servo from 50 to 10 gr, and the reciever from 40 to 10 gr,
I also changed the battery pack of 4 x AA 105 gr to 4 x AAA 50 gr. Total weight is now 1170 gr and double engine power.
The bottom side of the plane has black stribes both on the body and wing.
plane with wife - engine closeup - Empty servo room - servo room first two - all 3 mounted
RX and all servo - more servo closeup
battery and fuel tank - power sw charge plug
At the field Pictures: My is on the sticks - Trying to start motor - motor started
Videos: Take off 1 671kb 3 sec. - Take off 2 1Mb 6 sec. - Take off 3 and some fun 1.6MB 29 sec. - Having hi speed fun 18MB 3minutes.
Landing 1Mb 15 sec . - Fly Hi like hell 350kb 8 sec.
Graupner Catalog Chico from 1977: page 1 - page 2 - page 3
---
My 2nd. Plane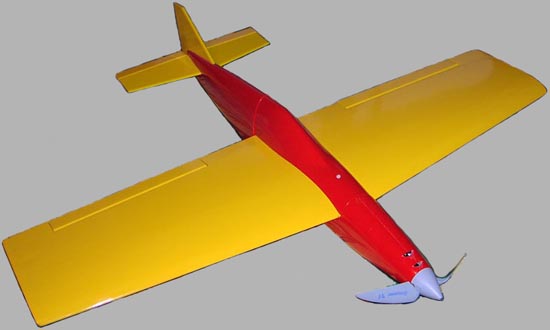 DARA 20 FLAIR Model.
See all the pictures from the complete plane construction
Electric conversion of old glow-motor plane. Wing span = 92cm, Corde = 24cm, Length = 77cm
Total weight with two 8 cells KAN1050 battery packs = 1130 grams.
---
My 3rd. Plane (sold)



Electric light weight 315 grames ready to fly. Wing span = 95 cm.
it is a Park Pilot using a small electric motor.
The powersupply is 6 AAA NIMH cells (80gr) this also powers the reciever and two servos,
the motor is controlled using a small electronic speed controller.
To protect the propeller this plane has a simple landing wheel,
Flying control is done only at the tale rudder and elevator.
The transmitter is a 3ch 40MHz AM type, the motor speed controller is mounted the the rear side.
This TX has both invert and mix facility.
More pictures: Plane with my son - Without wing - In air with Peter as pilot - In air - Flying video clip
---
My 4rd. Plane (Deceased and buried)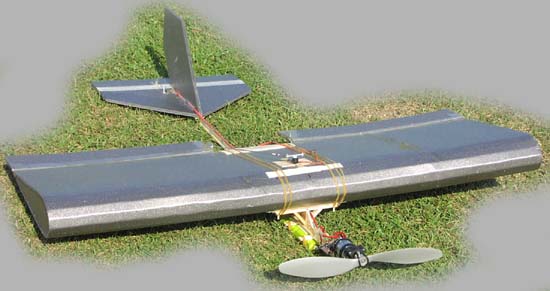 This one is 100% homemade and home designed, I have used no drawings all is made right out of my head.
It can make super fast rolls, normal slow loops, upside down, and hover.
Flying weight 505 grames, Wing span = 80cm. Battery 8 x KAN1050,
Motor Speed 400 with gearbox, prop is 10 x 4.7 inch, pull = 510 grames freshly charged, flying time 5-9 minutes depending on speed.
This plane uses the first Homemade motor regulator I made, and a super small REX5 reciever and super small Dymond servos.
The servos are almost as thin as the double layer Depron plates I used for the tale part, so the height rudder servo was mounted inside the depron.
I had to make the servo cable longer, it looks fine when using heatshrinking tube to isolate the soldering,
the connector end was easy to change cable in using a small screwdriver.
The Heightrudder was cut like this so it can move up and down better. most Depron pieces was first clued and then cut into right size.
Wing is mounted on fuselage like this and hold fast using rubber bands, just like the battery pack.
More pictures: Bottom view - Without wing - Whole length - Landing gear pianowires

---
My 5th. Plane (Sold)


This blue high wing model "The Stick" by "Bingo" was a gift from my father, it uses a Saito FA50 4 stroke glowplug engine.
I have fitted 3 servos into the fuselage
The landing gear is improwed using a glassfiber plate so it will not brake.
The wing on the picture is not the original, but a homemade one, see How I did construct a new wing for my Stick using no drawings
the cord is 31.5cm, made to fit the fuselage and spanwidth 157cm.
The total flying weight was 2350 grams with the original wing..
---
My 6th. Plane is a combat wing, Electric Brushless.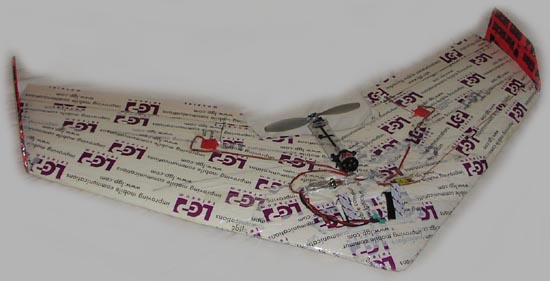 Note the nice covering tape ! it was a sponsor gift from my privious job.
Spanwidth = 119cm, corde = 39cm, width at tip = 23cm. 160 grams bare foam. after gluing, coating and carbon sticks was mounted it got up to 265 grams.
This nice brand new wing was a gift from Peter B. Thanks alot, I started next night to make this one ready.
Motor is Brushless MEGA 22/10/6 prop is 9x3.8 slowfly, battery 2 x KAN1050 packs 8 cells in parallel
(5-15 min flying time depending on fun level) Schulze RX. two mini dymound servos.
See all the pictures from the complete wing construction and test flying videos goto bottom for BL motor
Powerfull LED light added to this wing for funny night flying
---
My 7th. Plane is a Chicken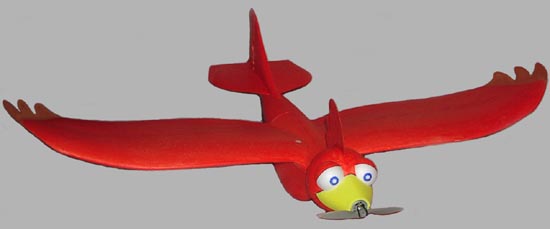 Wing span = 105cm, Length = 71cm,
Weight with 3x1300 lipo and BL MEGA ACN 16/15/6 = 513 grams, prop is slowfly 8x3.8 it goes vertical !
I use this quite funny plane to show to kids, it really fly good and is easy easy !
chicken-fly1 - chicken-fly2 - chicken-fly3 - chicken-me
---
My 8th. Plane is a FunTastic 3D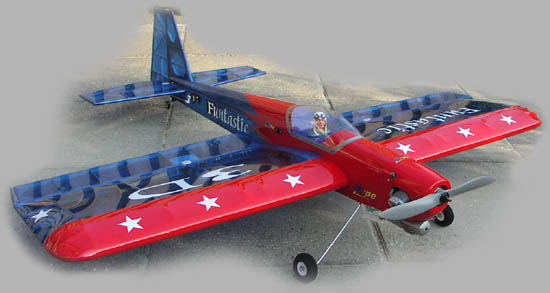 Wing span = 130cm, Length = 130cm,
Weight without fuel 2000grams, Engine OS MAX AX 46, Exhaust pipe P-BOX hi-performance, Prop APC 12.25" x 3.75", Spinner none
RX Schulze 835, Battery 4 x GP1100, Servo 5 x Graupner C5077

See MANY pictures from the assembly table
Pictures and Video clip from first flight
---
My 9th. Plane is one more large wing, Electric Brusless.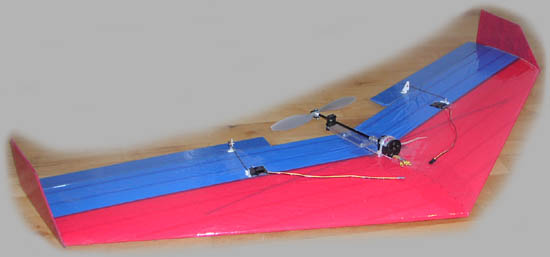 Same hardware as number 6. but this wing is much thinner, and much lighter due to other thinner coating
This one is the the killer wing from hell, 880gr ready to fly incl all, goes straight up as long as I like
The noise is a bit loud, but awesome plane and super fun.
PIC1 PIC2 PIC3 PIC4 PIC5 PIC6 Gear-closeup
http://www.vimeo.com/3795368 only half power - http://www.vimeo.com/3795626 see the end at full speed.
---
My 10th. Plane is a Kobra, Electric Brushless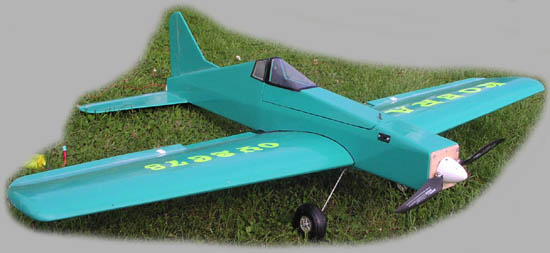 I have have purcased this one fully assembled and ready, WOW a super great and fun electric plane
I use GP1100 or KAN1050, 8 cells in series and two packs in parallel, so they can deliver the huge currents needed
The side rudder has been glued, to save a servo/channel, so I can use small and a light 4ch RX Schulze A435
kobra-takeoff-table.avi Small Take off AVI video clip - many more kobra pictures, also with KillerKobra
---
My 11th. Plane: Biplane Sportster from Great-Planes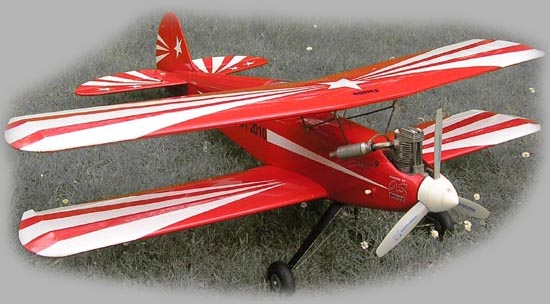 I have have purcased this one fully assembled and ready fly. (May 2005)
Including McDaniels EL glow system 4x1300NICD, and 4x600NICD for RX
OS70 Four stroke, prop 3 bladed 11x7, fuel = 325ml, uses 100ml=7½min
Wing span = 116cm, Length = 113cm, Weight without fuel = 4000 grams
More : Picture92 - Picture97 - Picture98
---
My 12th. Plane: Patriot from Flair (sold)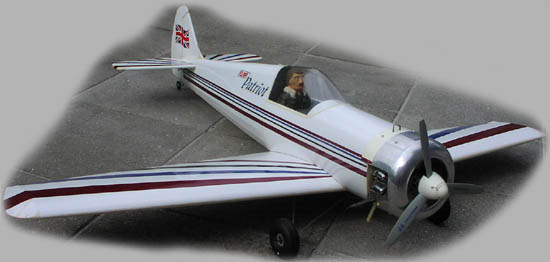 I have have purcased this one fully assembled and ready fly. (Aug 2005)
Wing span 152 cm, Corde 36/22 cm, Length 140 cm, Weight=3350 gram.
Engine = Saito FA 65 Four stroke. RX Futaba FP-R 115F/5CH 35Mhz, Servos Futaba 4x S3001
Prop 3 bladed 12x8 inch, Battery 4 x 1000mAh NICD, Fuel = ???ml.
More: Patriot and me - Patriot from top - Engine start and idle sound MP3
---
My 13th. Plane: Piper Electric Speed 600 (sold)



Wing span 152 cm, Length 90 cm. Weight 1430 gr. One standard servo in the wing, Side and Height rudder small light servos.
I use GP1100 or KAN1050, 8 cells in series and two packs in parallel, so they can deliver the huge currents needed
Slow, easy, borring, stable, what else can I say, not much fun to fly this one, it is just too easy.
More : piper-top - piper-inside - piper-prop8x4 - piper-motor
---
My 14th. Plane: Corona120 LMH electric helicopter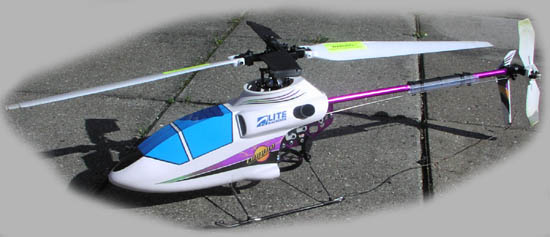 Wingspan 120 cm, BLDC motor Twist-28, Intelect 3800NIMH 7 cells, Dynam 40A BLDC regulator, Align gyro Head Lock with remote gain,
Modified Jeti RC to more channels and more imune to powersupply noise.
More : 14corona2.jpg - 14corona3.jpg - 14corona4.jpg
---
My 15th. Plane: Electric indoor 3D depron plane called Laser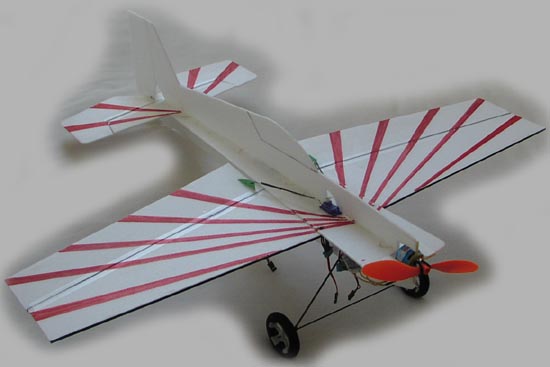 Wingspan = 80 cm, Lenght = 75cm, Weight = 200 gr including all. Battery = 2 lipo 860mAh Sky-Holic, RX = Hitech HFS 05HS
Motor = Air Power Brushless 450, 45 gr and 100W can drive 10 x 4.7 if needed, Prop = GWS EP8060, Servos = 3 pcs Tower Pro 9 gr
wheels made lighter - Wheels mounted outside - Wheel mounting seen from inside - improve fuse1 - improve fuse2 - night flight ready LED light
---
My 16th. Plane: Electric EPP ving 70cm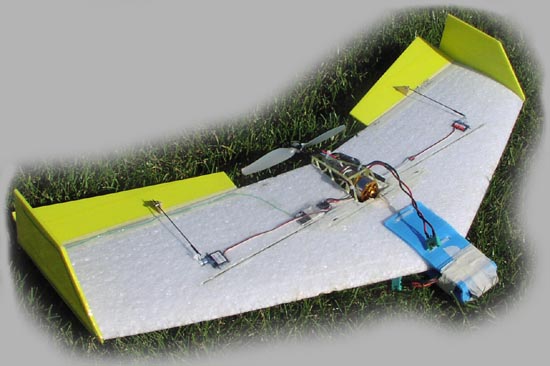 Wingspan = 70 cm, Weight = 180 gr including all. Battery = 2 lipo 860mAh Sky-Holic, RX = Hitech HFS 05HS
Motor = sn-2406-32 32gr trust 400gr ! Prop = APC 7x4, Servos = 2 pcs Dymond D37 eco
16vinge70cm044.jpg one more picture.

---
My 17th. Plane: F14 Tomcat from Greatplanes (waiting for minor landing gear repair)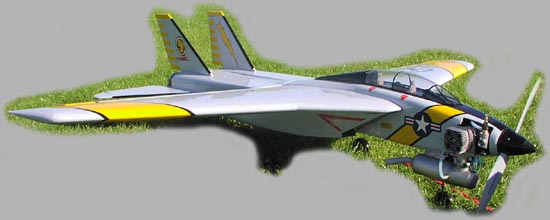 Wingspan = 149cm, Length = 130cm, Weight = ?? gr no fuel. Battery = 4x700mAh NIMH, RX = Multiplex RX9 DS-IPD
Motor = Super Tigre 15ccm, Prop = APC 12x8, Servos = 7 pcs various types, retract landing gear with steering.
onground - charging - started - ready-for-takeoff - airborne - in-air-close - approch - landing
---
My 18th. Plane: KillerKobra EFK87 project 2005-2006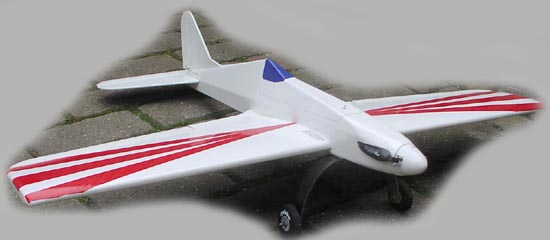 Wingspan = 120cm, Length = 120cm, Weight = 1000gr. Battery = 2 x 8cells 1400mAh NIMH, RX = Hitech HFS 05MS
Motor = Axi 2820/10 Designed for 8-10Volts and 30-40A, Regulator Jeti 40A.
Prop 10x6, HM system hub and HM system spinner
This one is based on the original design Kobra.20 see my plane with number 10
This "killerKobra" is designed lighter, faster, thinner wings, thinner fuselage, tale part minor changes, wing straight. From a distance they look the same, but the feeling in air is compleetly changed.
kobra vs KillerKobra pictures
01 - 02 - 03 - 04 - 05 - 06 - 07
---
My 19th. Plane: Ultra Stick Light Hangar 9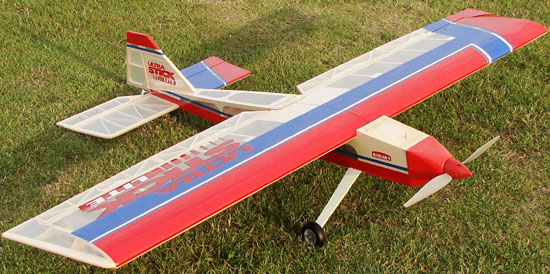 Wingspan = 200cm, Length = 162cm, Weight = 4600gr. Battery = 10 cell 4350 Hyperion LIPO
Motor = Hyperion Z5025 B B22, Prop 16x10 inch APC. Regulator = Hyperion 90A opto 5-12LIPO
Switchmode BEC Power supply for RX and Servo = Hyperion HP-TICOOL-BEC 4A cont.
6 x Graupner Digital DS8081 servo, Receiver = Homemade 8 ch UHF - video tx - video cam
saving weight1 - saving weight2 - from side - RC OSD - GPS - anti-spark1 - anti-spark2 - Video equip install
video clip from plane 1 58Mb - video clip from plane 2 32Mb
---
My 20th. Plane: unknown old plane from 1969 ?? or so ??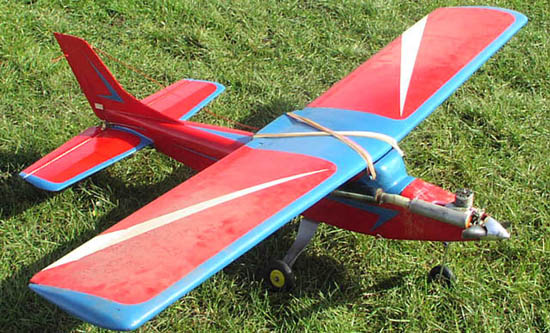 The original radio gear and motor was still in this plane when it was donated to me in 2007
All servoes had to be replaced, but the original motor was able to run and made this plane fly again in 2007
see more pictures
---
My 21th. Plane: is another helicopter, Ikarus ECO 8 Royal with a few upgrades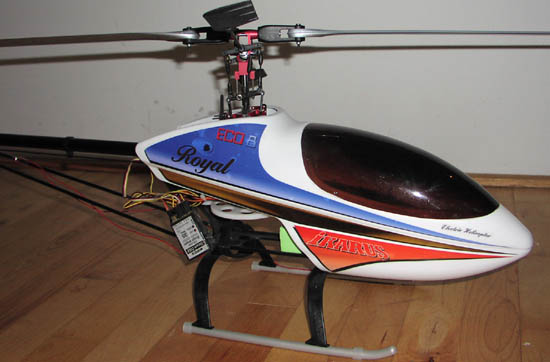 The original plastic swashplate is compleetly crap, and the main support bar for motor and main rotor MUST be changed to alu !
blades handmade carbon from ACT Germany.
see more pictures
---
My 22th. Plane: HAI2 wing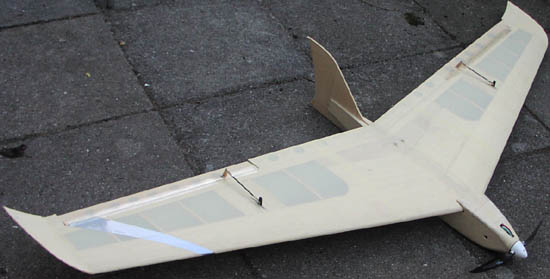 wing span 181cm made in balsa and plywood, Motor: Plettenberg orbit 15/18, Prop CAM carbon clap 12/8" HM system hub and HM system spinner
Battery 3S 5Ah kokam, Radio = homemade UHF, Weight = ????gr, fuselage length = 77cm, fuse width = 8cm
more pictures, this plane is made after a drawing in FMT modelbau, by Brian.

---
My own RC boat
My 1st. boat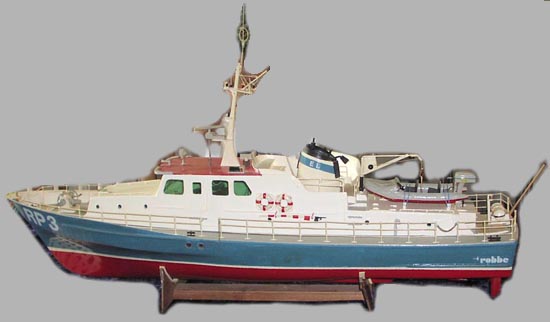 This one was a gift to me and my kids, it's a Robbe RP3 really huge 92cm long, a lot of details was made super nice
The radar is connected to a motor with gear so it can rotate. The little rescue boat can be lifted into water.
I have installed an old 27Mhz reciever and an old big servo, The homemade motor regulator is Glued into silicone glue to protect in from water.
The battery room is made so the heavy battery packs can be placed as low as possible.
The inside of the boat is filled with white foam and anti sink expanding foam.
The bottom the the boat was filled with 2 kg iron and lead to make it stable. The rudders and screws
To test this boat at home first I had to make my own water bowl, but it works and fits the boat perfectly and it costed nothing
More Pictures: My kids with boat - In water31 - In water34 - In water35 - In water36

---
My own RC Cars
My 1st. Car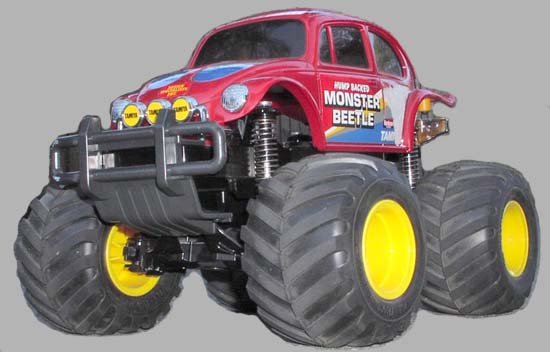 My first few RC car's I had many many years ago when I was a kid. So this 1st. car is some of them I got it 2000.
This one is a Monster Beetle from Tamiya with servo steering and 5 forward and 5 backward electronic speed levels.
It uses 27MHZ normal propotional Pulsecoded AM modulation. see car with my kids
---
My 2nd. Car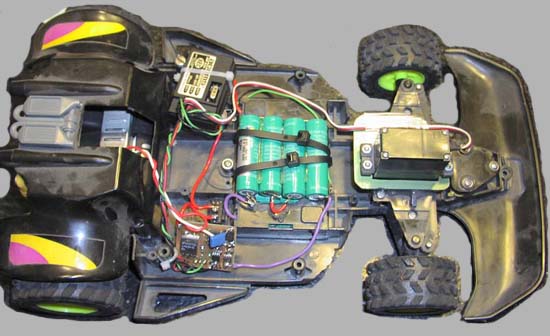 I got this crap toy car from a flea market 2002 for almost nothing, then I modified the sterring to real servo control.
Servo mod1 - mod2 - mod3 - mod4 - mod5
I added my own homemade motor regulator with brake option.
The motor size was almost a Speed 300 so I changed the motor to a SP300 7.2 Volt, the battery pack is 10 Cells AA 1600 NIMH.
This car goes super fast so it's a lot of fun driving it.

---
My 3rd. Car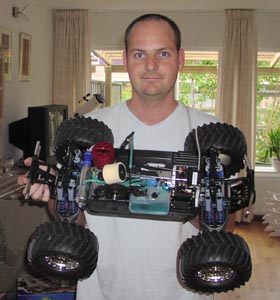 -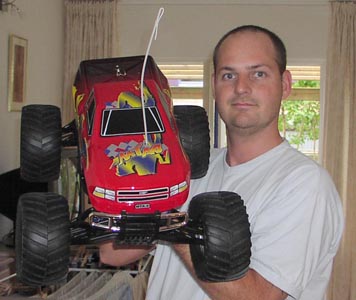 I got this August 2004, Thunder Tiger 3.5ccm metanol offroad monstertruck (MTA-4)
It is real 4WD with automatic speed controlled 2 speed gearbox. Forward/reverse made using a 3rd servo.
Pictures: At the field - Ready to jump - Crash !! alot of times - Speeding up - Fuel Refilling - Flying HI speed ! - Repair simple
Play the videos at 1:1 scale else they will look bad due to hi compress.
Videos: Hi speed - Lucky landing - Jump and curve - Jump and hit wife !! - Good jump but too fast
Modifications: Cooling Holes - Reso pipe - Reso and original - Shock absorber original - Socks added 1 - Socks added 2
Adding the Tuned reso pipe # PD0418 from Thunder Tiger did not lower the noise or boost performance when I was running on 16% nitro
Later that day I changed to 25% nitro fuel, NOW I could see and fell more acceleration and a bit more top speed.
I dont know if this performance gain would have been the same with the original pipe.. but it is still TOO noisy !!
After changing from 16% to 25% nitro I could lower the idle rpm and still keep it stable, it also starts better.
Adding socks prevent dirt and dust from comming into the shock absorbers, giving them a lot longer lifetime.
The braking spring was WAY to long and too thin, I have changed it to 20mm fuel hose, now the brake system works.

---
My 4rd. Car

this is a tiny 17cm long RC car, with REAL PPM propotional control ! I got it in 2007
weight = 176gr including four AAA cells in the car, wheel distance = 9.90cm center to center
wheel width = 7.60cm, spring suspension on all wheels, and differantial, the transmitter can handle 10 cars in the momory
and is 27MHz AM PPM compatible with all other 27MHz AM PPM RC receivers I have on stock,
the TX has also expo, reverse, dual rate, digital trim, and a 3rd channel on a switch, the complete system = 100 $
I have added LED light to this car, see here how it was done.
---
My 5th. Car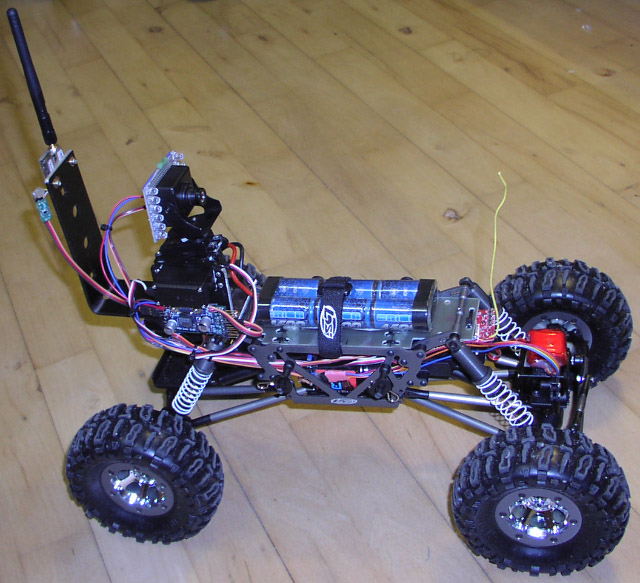 this is a FPV CAR, with live video link. Camera is mounted on a pan-tilt system, with night light LED
this one is from 2010, TEAMLOSI 1/10 Comp Crawler, its motor is 50:1 geared and full 4WD with no differential.
so it can drive over railway tracks if needed !! I tested that.
Pictures : 2 - 4 - 5 - 6 - 7 - 8 - 9
Video : http://www.vimeo.com/10638672 nice driving during night with IR laser night vision
http://www.vimeo.com/10593709 BEC problem with original Graupner speed controller
http://www.youtube.com/watch?v=tqDlH-5zaLI see last halve part is with this FPV car in action

---
Some of my remote control transmitters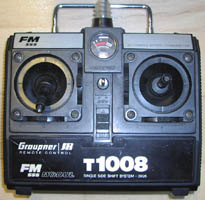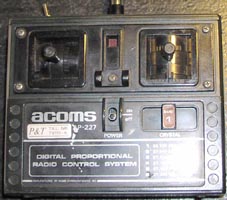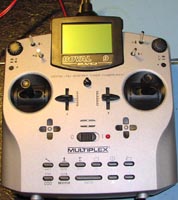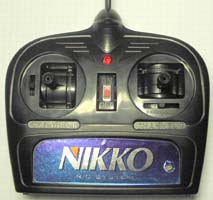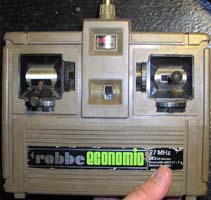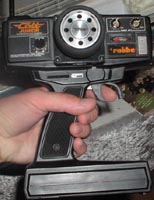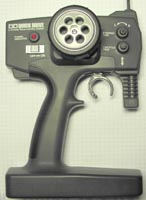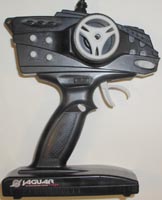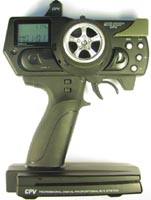 Some are sold, some are in the bin, others are new and in use, the rest I keep just for funny projects or for my kids.
---
LINKS
www.rc-unionen.dk/nytforum Dansk RC forum
www.rcuniverse.com English RC Forum
www.flightlines.com English RC Forum
RC switch
Das Corsair-BBS Dateiarchiv im Internet Modellbauelektronik
TwinStar with camera and crash pictures
Much more about Real Time Video from RC planes
Claus Urbach click on Modellbau
Gunter Kreutz many EL planes many pictures
LRK brussless motor info and pictures
EFK87 Elektro Flying Klub
SHOPS
www.andys-hobbyshop.de
www.avionic.de tlf 86 94 60 88 (10-18)
www.batt-mann.de Akku und modelbau
www.dinohobby.dk tlf 27 49 40 95
www.djurshobby.dk
www.el-fly.dk tlf 98 43 48 72 (1530-18)
www.hobby-world.dk tlf 75 72 22 95 (10-13 og 15-17:30)
www.holte-modelhobby.dk tlf 45 42 01 13 (930-1730 mandag lukket)
www.iccom.dk tlf 36 17 85 33 (1000-1730)
www.iv-hobby.dk
www.leif-o-hobby.dk tlf 98 31 94 22 (1300-1800)
www.rc-netbutik.dk 45 76 29 02 (19-21) 24hr email net butik
www.rotordisc.dk 75 88 54 54
www.silverstarmodels.dk
http://www.modellhobby.de Staufenbiel, German web shop
www.towerhobbies.com
www.witzel-hobby.com tlf 57 67 30 92 (1100-1730)
www.maaetoft.dk tlf 86 43 61 00
www.nessel-elektronik.de